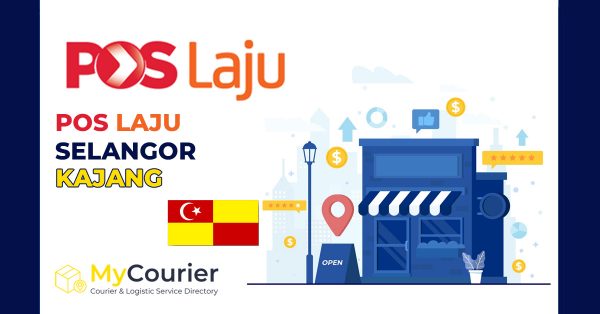 Pos Laju Kajang Location Listing
Location listing of Pos Laju Kajang outlets, Service Centre, Kiosk, EziDrive-Thru, and Pos Mini, operations hours and contact number. Find out the direction of Pos Laju near me, in Kajang Selangor, Bandar Kajang, Bandar Puteri Bangi, and Taman Prima Saujana.
Pos Laju provides Domestic & international shipping service,  Pos Laju Prepaid envelop, Stamps, Unit Trust, Insurance, Money Transfer, Bill & Payment, and Vehichle license renewal services.
Where to drop-off Pos Laju Shopee parcels in Kajang area? Where to self collect Pos Laju parcel in Kajang area? Find out the outlets list as belows;
Pos Laju Kiosk Plaza Metro Kajang
Address:
Lot LG31A Plaza Metro Kajang, Jalan Tun Abdul Aziz, Bandar Kajang, Kajang, 43000, Selangor
Get Direction in Google Maps
Business hours:
Monday – Sunday  (10:00am – 6:00pm)
Contact Number:  –
Available Service:
Domestic Delivery, International Shipping (EMS), Shopee drop-off, EasyParcel drop-off, Sendparcel drop-off, Pos Laju Prepaid envelop ( Buy or drop-off)
Stamps & Stationery
Unit Trusts (Amanah Saham)
Insurance
Money Transfer
Bill and Payments
Renewal of Vehicle License
Pos Laju Kiosk Lotus's Bandar Puteri Bangi
Address:
No. 2, Laman Puteri 2, Bandar Puteri Bangi, Kajang, 43000, Selangor
Get Direction in Google Maps
Business hours:
Monday – Saturday  (8:00am – 6:00pm)
1st Saturday of the month & Sunday   (10:00am – 6:00pm)
Contact Number:  –
Available Service:
Domestic Delivery, International Shipping (EMS), Shopee drop-off, EasyParcel drop-off, Sendparcel drop-off, Pos Laju Prepaid envelop ( Buy or drop-off)
Stamps & Stationery
Unit Trusts (Amanah Saham)
Insurance
Money Transfer
Bill and Payments
Renewal of Vehicle License
Pos Laju Kiosk Petronas Prima Saujana
Address:
Petronas Prima Saujana 2, Lot 17892 Sublot A, Taman Prima Saujana, 43000 Kajang, Selangor
Get Direction in Google Maps
Business hours:
Monday – Saturday  (8:00am – 6:00pm)
1st Saturday of the month & Sunday   (10:00am – 3:00pm)
Contact Number:  –
Available Service:
Domestic Delivery, International Shipping (EMS), Shopee drop-off, EasyParcel drop-off, Sendparcel drop-off, Pos Laju Prepaid envelop ( Buy or drop-off)
Stamps & Stationery
Unit Trusts (Amanah Saham)
Insurance
Money Transfer
Bill and Payments
Renewal of Vehicle License
Address:
ECONSAVE Cash & Carry, Jalan Reko Sentral, Kajang, 43000, Selangor
Get Direction in Google Maps
Business hours:
Monday – Friday (9:30am – 6:00pm)
Saturday (9:30am – 2:00pm)
Contact Number:   –