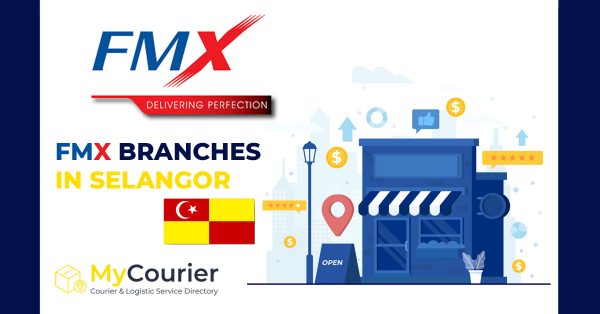 Location listing of FMX Selangor branch, operations hours and contact number. Find out the direction of FMX near me, Shah Alam, Petaling Jaya, Citta Mall, and KLIA
Find your nearest FMX Express branch to drop-off, pick up or sending parcels.
FMX provides Express Delivery service within Peninsular and East Malaysia, including next day delivery services to all the major towns within Malaysia and 2 to 3 days Express Delivery services to outskirts and rural areas.
SHAH ALAM
Lot 8 Jalan Sungai Kayu Ara 32/38 Taman Perindustrian Berjaya Industrial Park, 40460 Shah Alam, Selangor.
Operation hours:
Mon – Fri (9:00am – 6:00pm)
Sat  (9:00am – 1:00pm)
Sun Closed
Tel: 1700-81-8369
Email: fmxcs@freightmark.com.my
View in Google Maps
KLIA
B2B-5,Block B, Malaysia Airlines Freight Forwarding Complex Free Commercial Zone, KLIA Cargo Village, Kuala Lumpur International Airport ,64000 KLIA, Selangor
Operation hours:
Mon – Fri (9:00am – 6:00pm)
Sat  (9:00am – 1:00pm)
Sun Closed
Tel: +6012-6605805
Email: fmxcs@freightmark.com.my
View in Google Maps
PETALING JAYA (CITTA MALL)
Lot No. LG-15, Lower Ground Floor NO 1, JALAN PJU 1A/48, PJU1A, Ara Damansara, 47301 Petaling Jaya, Selangor
Operation hours:
Mon – Sat (10:00am – 10:00pm)
Sun Closed
Tel: 6018-3700995
Email: fmxcs@freightmark.com.my
View in Google Maps