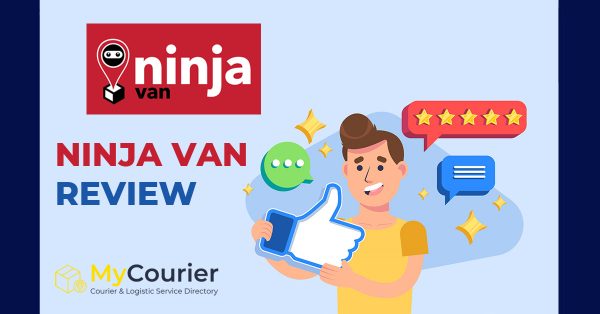 Check Ninja Van Review on delivery time, shipping rate, customer service, driver attitude and more, reviews are sharing by customer's experiences. Please feel free to comment your user experiences of Ninja Van Malaysia, are you recommend to other users? 
Reviews on Mycourier.my are written by users from Malaysia. Anyone with a service experience can write a review to Ninja Van Malaysia. All reviews are published instantly, No censoring, No delays, and transparent!
Facing delivery problems, parcel damage,  parcel missing issues? Or even poor customer service? Share your review on Ninja Van Malaysia now!
1.2 out of 5 stars (based on 20 reviews)
Some Rider is good I always get a,good And undstand but just first time I get Rider very rude talk realy make me feel like a rubbish to arrogant people delivery item his job what's please make sure all ninja van Good attitude
Do not use this courier… seriously the worst service ever. The person who was supposed to deliver my parcel is being rude when i ask them to deliver it to my house. The same address where the parcel should be delivered, ridiculous.
selalu tak puashati klu beli barang guna servis delivery ninja van. barang tak pernah hantar ke depan pintu, asyik tinggal kat post box. penat nak turun naik ambil barang kat post box bawah, padahal kita ada kat rumah bila dia hantar barang tapi deliver tu tak nak atas so drop barang kita kat post box.. klu sekali dua bolehlah diterima tapi klu dah selalu camni, ko rasa 😠😡
WORST DELIVERY COMPANY EVER
The Ninja-scammer drivers never attempt to make delivery if they're running late, and will just fail delivery and "return to sender".
Read the other reviews here, on Google and Trustpilot. Using Ninja Van is like gambling with your parcels. You don't know if it will be delivered, when or if it will be damaged or disappeared. I refuse to shop or do business with ANY COMPANY that uses Ninja Van. They're a joke delivery operation.
They'll mark your delivery as "rejected" or "receiver not at home" and NOT EVEN ATTEMPT to deliver your parcel and RETURN TO SENDER immediately with no attempt to deliver (but parcels are never returned to sender, they just go missing/disappear).
Of 5 deliveries, I've only ever had ONE delivered (and late… after making a complaint by telephone to their HO).
My last parcel was meant to be delivered yesterday. Nothing. I'm at home all day today and just got update at 9:30pm that my delivery failed because I AM NOT AT HOME! *****I'VE BEEN HOME ALL 2 DAYS!*****
Ninja Scammers didn't bother calling me or even bother to turn up before failing delivery and "returning to sender" (btw, parcels "returned to sender", usually just disappeared).
And this has happened with 2 other deliveries.
Otherwise, your parcel will be held at their depot for sorting FOR WEEKS (until it disappears or delivery fail). 2+ weeks for delivery within Klang Valley? Joking right?
With another delivery, they said they couldn't deliver, as driver couldn't contact me by mobile phone. I had several emails where I had informed them previously of my CORRECT mobile phone number. The number they had in their system was STILL WRONG (even after I emailed and telephoned them my correct contact number several times before and after).
Delivery got failed and returned (as usual). Driver doesn't even bother to call mobile anyway, usually.
This SCAM COMPANY just looks for any excuse to NOT deliver, so they can STEAL your parcels. What a scam operation.
READ THE OTHER REVIEWS. This is happening ALOT to MANY OF THEIR CUSTOMERS.
AVOID THESE JOKERS AT ALL COST.
log created on 02/06/2022,
item picked up by ninjavan 03/06,
parcel being processed and distributed accordingly for shipment before due date on 09/06,
unfortunately parcel always out for delivery since 08/06, 09/06, 10/06, 11/06, 12/06, 15/06 & 16/06 but never once delivered,
worse of all, driver said vehicle broke down on 16/06 & not able to deliver, stated that 17/06 they will deliver. to my surprise driver updated with shopee that recipient not at home & unable to deliver. totally unacceptable!
write in to ninjavan customer service on 17/06, they only apologise & state that the delivery will be made on 18/06/2022.
at the time of writing this undesirable experience for all to acknowledge how INCOMPETENCE, IRRESPONSIBLE & OBSOLETE NINJAVAN MALAYSIA is, my parcel has yet to be arranged for ship out as promised (18/06/2022 3:30pm)
imagine how frustrating a simple shipping advice from klang to kepong, requires more than 14 days & yet parcel is no where to be seen.
please do yourself a favour & vanish like a how ninja should
The service is so bad that there should not be allowed even a 1 star rating as honestly it should be zero star. My packaged delivery status is literally updated everyday for 10 times until i have no idea when my package will be delivered and therefore i cant even plan my time. They should get an Award for consistantly acquiring bad reviews and late delivery as this requires true dedication to achieve such rating.
I think it is a waste of time to give feedback, comments, or think about NinjaVan for even just one second. If they care for their customers, they would have done what need to be done.
But to all the vendors/sellers that still opt to use Ninjavan as their preferred courier, you guys are complicit in potential losses to your business, service excellence, and reputation since the end-users/consumers will come to you for the lengthy delay. Please do not try to be frugal and unwilling to engage better and more reliable courier services for the insignificant higher cost. You have better things to do than responding to unhappy buyers simple because your preferred courier failed to deliver accordingly. That's all we can do, Ninjavan does not deserve a business. So vendor please choose wisely who you want to engage to deliver your goods.
Ninja Van this is the worst courier company I have ever dealt with.No update the delay delivery parcel ,
,call many time to service centre nobody to answer,if got zero star I will give to them.
Tahi ninja Van, Barang aku tu kau buat sup ke jeruk hanat?