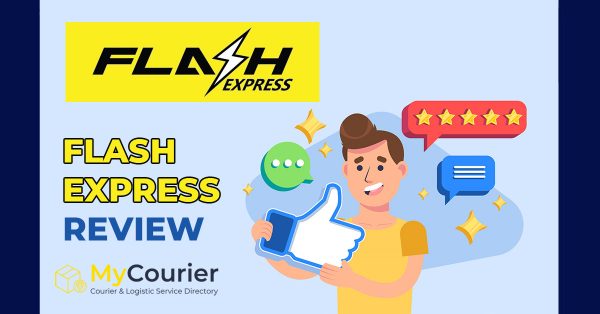 Check Flash Express Review on delivery time, shipping rate, customer service, driver attitude and more, reviews are sharing by customer's experiences. Please feel free to comment your user experiences of Flash Express Malaysia, are you recommend to other users? 
Reviews on Mycourier.my are written by users from Malaysia. Anyone with a service experience can write a review to Flash Express Malaysia. All reviews are published instantly, No censoring, No delays, and transparent!
Share your review on Flash Express Malaysia now!
0.8 out of 5 stars (based on 27 reviews)
Latest Flash Express Review
I see many bad reviews of this courier until i ask seller why use this courier for lazada haha. Aiyoo big mistakes. Idk if lazada has system to urge the delivery or flash express already improved the service but the parcel very very fast delivery. And very polite delivery man too. I just wanna say thanks for the speedy delivery
This is the worst ever courier service company. REALLY REGRET to use their service, my parcel still nowhere , it's already 7 days still cannot reach from PJ to Sunway………. BAD BAD BAD service…. even I do it myself by walking also can reach already.. Contacted CS as they saying is on the way , helpless from them also and ask me to wait….Bad Customer Service . Wondering how this company can still exist in Malaysia………
***** Giving 5 stars for this company – WORST EVER COURIER SERVICE COMPANY *****
Company sangat2 teruk barang dah sampai bukit bintang tetapi barang lansung takde update 4 hari sidai dekat bukit bintang bila call customer servis dia kata akan selesai kan hujung2 panggilan minta kita review cara dia bercakap dey pundek aku nak barang aku nak bukan review cara kau bercakap dengan customer
Very bad customer service officer, when I called for the parcel status, the agent asked can check from the website…
Hello !!! I also know but where is my parcel now and it has been delayed more than 3 days at located Klang not moving.
Very rude service and wondering how this company can have business license in Malaysia. Better use local courier service. ********************* PLEASE DO NOT USE THIS COURIER SERVICE ANYMORE *****************
This is a scam company. Requested for weekend delivery and CS already confirmed to pickup on weekend…It has been booked 3 days in advance and it is an important parcel concerns life and death. Been waited for so so so long also never come to pick-up, if you do not have such manpower to do the pick-up, at least give us a call if cannot make it…..don't name your company is tip top fast delivery and can change it to the slowest and irresponsible services company.
superb slow service….do not use this courier service anymore. already 2 weeks delivery from Klang to KL pun tak sampai. call CS pun tak jawab, WHERE IS MY PARCEL??????????????????????????????????????????????
VERY REGRET to use this kura-kura service, saw review Jobstreet, it seems there are facing alot of internal issues…lack of manpower230;…
First thing first, nothing against Lazada but this time round I seriously want to know if Lazada had some procedure or evaluation in place before appointing Flash Express as their delivery partner.
The designated rider to deliver my order even have the cheeks to call me on three different occasions citing inability to deliver my order as he's on Hari Raya holidays but promised to deliver the following next day, but surprisingly the delivery status "magically" reflected customer rescheduled the delivery, the next day, the same "joker" rider called me and informed me that he cannot deliver my order as promised without giving any other reason, upon checks on my delivery status, it reflected that the customer rejected the order at my doorstep.
Furious, I contacted Flash Express hoping to gain some insight updates on my delivery, the customer service informed us that a internal complaint had being lodged for the designated rider involved and they will update me between 24 to 48 hours to update on my order delivery.
The grace period had been breached and today, we called back the hotline and the CSO preferred to remain anonymous despite asking for his name.
He simply brushed it off and replied that a refund is in place, the designated rider had being deal without disclosing the action that they had takened against the rider, and these incidents got nothing to do with Lazada and all -ve remarks will not affect the rating of the customers.
So in my assumption, the appointed forwarders partners that Lazada engaged is the one that determined whether refund is deem appropriate in case they can't performed their delivery with due integrity and trusts, it affect the seller's income since the order can't be delivered due to magical wanks held by the courier, the customers lost all confidences in Lazada inability to appoint a trustworthy courier, and Lazada will eventually lost all it's online customers due to their couriers inability to perform their part in ensuring orders are being delivered.
It's not about the refund but even if refund is being credited, customers will not get the refund in the delivery charges paid for when we confirmed the order. It's the anticipation that customers looked forward to receiving their orders for their specific goals end of the day.
Not to mentioned that Flash Express CSO even openly declared that there's being lots of complaints about their delivery services and they are improving their services through these "feedback" from customers.
Lazada, it's take times and lots of resources to be one of the leading online retailer but ONE wrong choices on your reliabilities and obligations through "magical" courier inability to maintain your missions and commitments towards your customers.
Even in Covid-19 pandemic, all delivery were on scheduled, inline to the forecasted delivery with delivery partners like ABX, Godex, Kerry, smaller courier firms and the new comers alike.
It's the "magical touch" that your appointed forwarders had to perform when dealing with their inabilities to get customers orders delivered to their doorstep.
Delivery guy named Awang Syahrul Azwan bin Awang Sekebi was so fucking rude!!!! Accusing me of lying just because i didnt pick up his call. No brain, no manner. After i call him back and sound sebakul pun belom tentu ada otak lagi. Bangang tahap dewa!
The worst courier service I have ever encountered. I still haven't received my parcel. It's in the centre which is only 20 minutes away from my house. Already 2 days but they haven't found the time to send it though. Next, for raya holidays will be be closed for god knows how many days. Your service should be renamed to Snail Express!! I would give 0 stars if can!!
The worst Courier company ever by Far.